---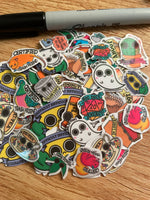 Do you love tiny things? These are perfect on cell phone cases or anything else you need a tiny gap filled! They are chosen completely at random… who doesn't love a good mystery?!
We try our best to make sure you don't get duplicates, but these things do happen!
These stickers are between .5 inches and 1.5 inch, made of vinyl and have a permanent clear vinyl on top to make them water resistant and extra durable!